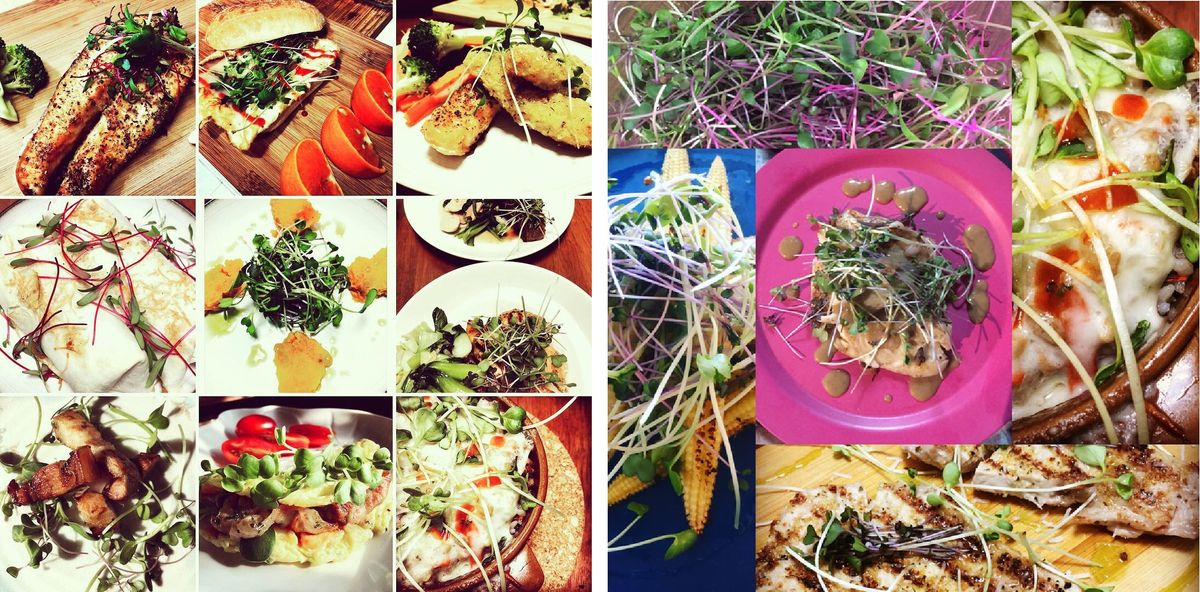 There are only a handful of times in my week that I get a chance to sit down for a few minutes to collect my thoughts about the days past, the days to come and even the very moment that's passing. Today, thanks to a healthy growing crop and a productive trip to the farm, I've worked in an hour to reflect on the past few months and what has been accomplished during that time. No question about it: It has been a very busy four months! Let's take a look back...
The Restaurants
Leading up to 2019, Co-X Green Works was working diligently to produce beautifully looking, fresh and healthy 'greens for MELB & Co. in Changhua City, Taiwan. What a fantastic experience it was and continues to be! The owner, Derek, reached out to Co-X GW to supply them with popular Cilantro and Beet Microgreens. It wasn't long after the greens started to grow that Derek made a very big announcement: a second location - albeit with a different name - was going to open in Taichung City, Taiwan. This beautifully designed and centrally located restaurant is called the Oz and is the second customer for this microgreens grower. Twenty-eighteen was a year filled with challenges with -nineteen sure to springboard Co-X GW to new heights.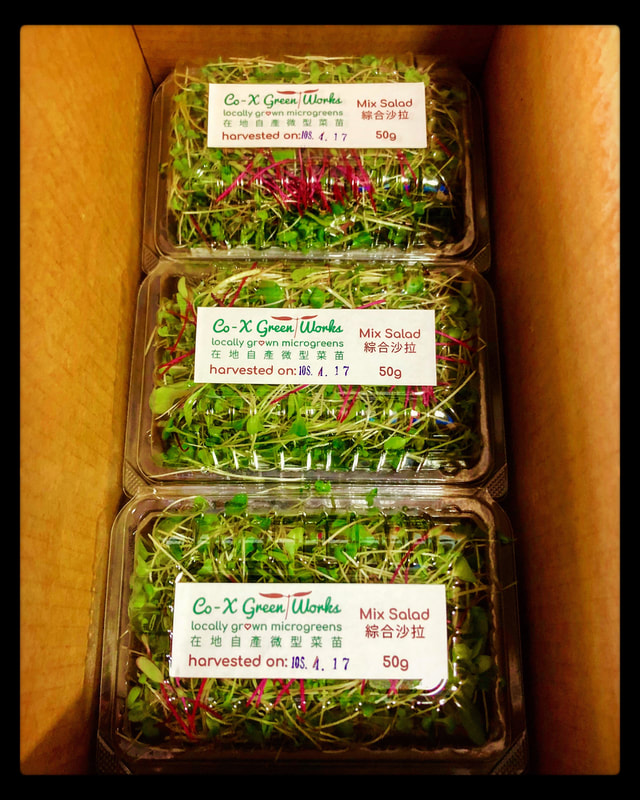 Microgreens from Co-X GW have enjoyed steady growth since the beginning of 2019 and can now be found in a number of local restaurants and one in Taipei City, Taiwan. In Taichung, situated mere minutes from the farm in the city's Central District (中區), Lesson One serves a variety of delicious meals for brunch that are sure to please everyone's appetite. (Psst...they sell the best 'to go' potato chips that this writer has had the pleasure of eating!) Finga's Fine Foods, a long-time favorite in the Foreign Expat and Taiwanese Communities looking for savoury Western delights, sells Mixed Microgreens Salads that has become a popular addition to meals as a side or addition to salads, pastas and rice dishes, sandwiches, soups and plenty more. Rounding out the current list of restaurants supplied with microgreens from Co-X GW, Vast Cali Eatery stands out in the Taipei foodie scene with it's California-themed menu chocked full of nutrition-packed, fresh and healthy menu options that will propel you up any mountain or across any running track. The food at VCE is incredibly delicious and the interior design is Taipei City all the way!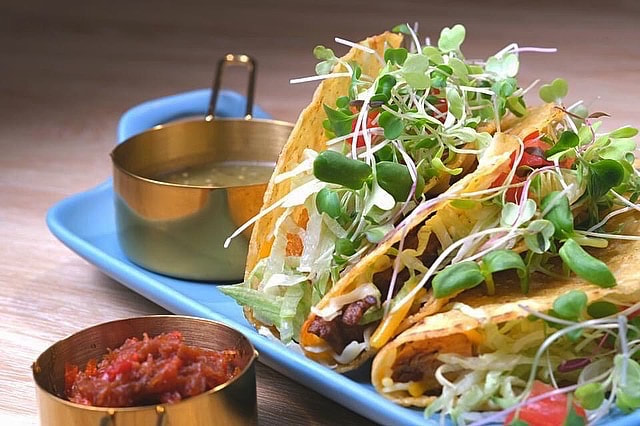 The Homes & Offices
We are always looking for new and exciting ways to bring microgreens - their flavours, appearance, health benefits and creativity - to a plate or bowl near you. Well, why stop at simply offering Broccoli, Basil, Beet and Cilantro as stand-alone 'greens? Calling all salad lovers: We've tossed all of our microgreens into one mixing bowl and have packed dozens of reusable 'to-go' boxes filled with a wide variety of flavours, ranging from sweet to spicy, aromatic to savoury. (Salads topped off with celery 'greens hit you with their sweet aroma and refreshing taste!) What's über cool about these salads is that they can be used on an assortment of different dishes. Gone are the days of alfalfa sprout-covered sandwiches, soups and other dishes; hello colour, pizzazz and aw-inspiring masterpieces.
Salad Lover: "Hey, Co-X GW: Where can I find these fresh salads sell? Are they in stores, restaurants, etc...?"
Co-X GW: "At the moment we are selling our signature salads at Finga's Fine Foods and..."
Salad Lover: "I live 100 traffic lights away and it's raining today. Traveling all that way for a salad in this downpour is too much of a hassle."
Co-X GW: "We've got you covered!" Read on...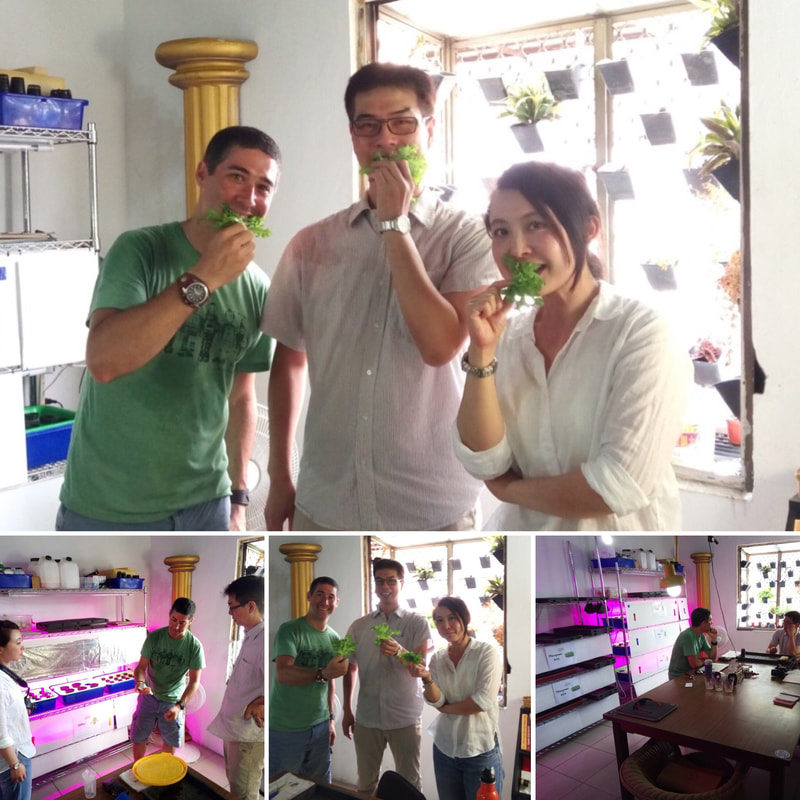 Since Co-X GW is still small in comparison to the large vegetable and salad producers, we've decided to take our salads on the road and deliver them straight to your home, office, or local park (because there's something about salads and picnics that go so incredibly well together). For absolutely no additional delivery fees, Co-X GW will deliver your salad anywhere in Taichung City so you don't have to inconvenience yourself to enjoy a healthy and fresh salad. Come rain, wind, or traffic, rest assured that your salad will be delivered on time and on the day that you request it. (Exceptions include: 3am salad cravings, 1ft snowfalls and this writer's birthday!) Since starting deliveries back in February of this year, Co-X GW has delivered salads to families, couples, office employees and schools. Want to give our salads a try? Send an email, a Line chat, or Facebook message with your address, date and time of delivery and we'll get your salad to you.
Your parents' milkman has now become your saladman! And he's on the job to bring you the very best mixed microgreens salad!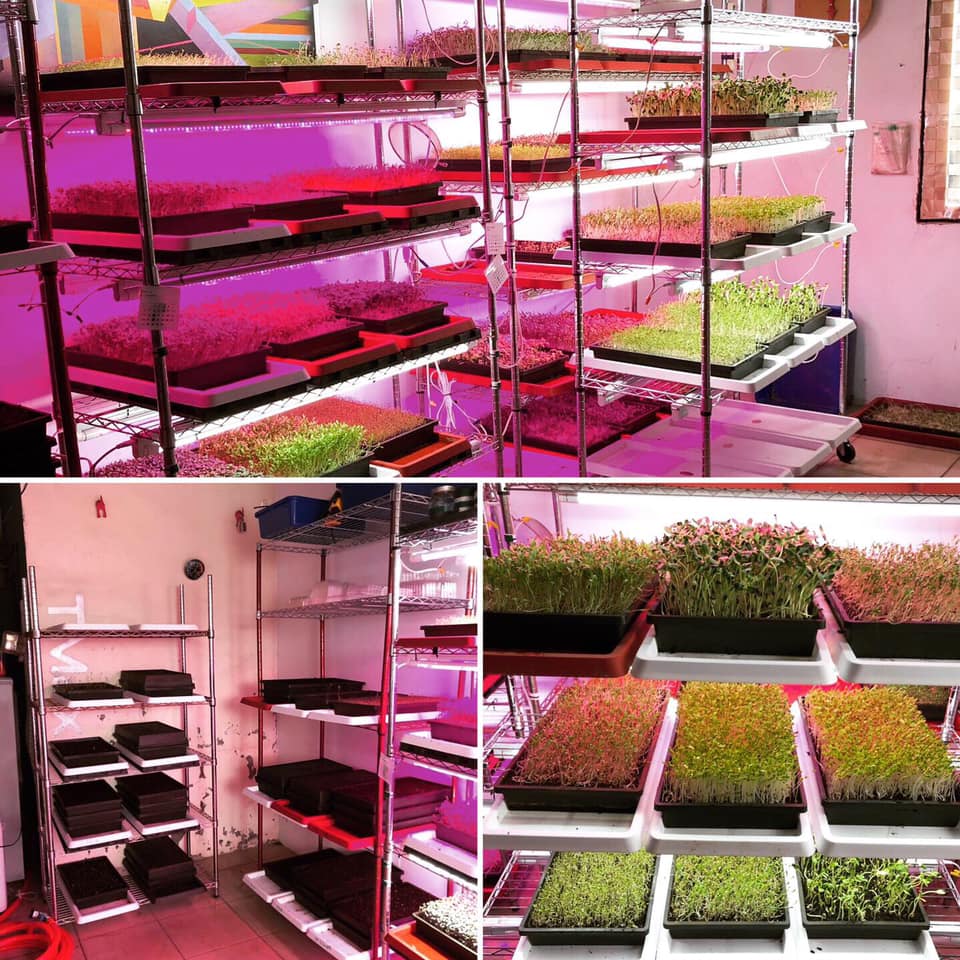 The Farm
I'll wrap up this article with a brief update 'on the farm'. What was once a derelict, dusty and unoccupied space has been transformed into a fully functioning, vibrant and productive farm. All too often we condemn old and seemingly unusable spaces to the trash bin only to wait for a bulldozer and development corp. to come along in anticipation of raising a new shopping mall, condominium complex or worse, a parking lot.
This writer has spoken at length about the inevitability of what may replace this building, known as 千越大樓, and what it would mean for the community at large.
"Really? Another shopping mall? Another condominium complex? A parking lot? Are these the best options and outcomes for a neighbourhood with such a vibrant history, attraction to tourism and so much more? We can do better. In fact, WE MUST do better!"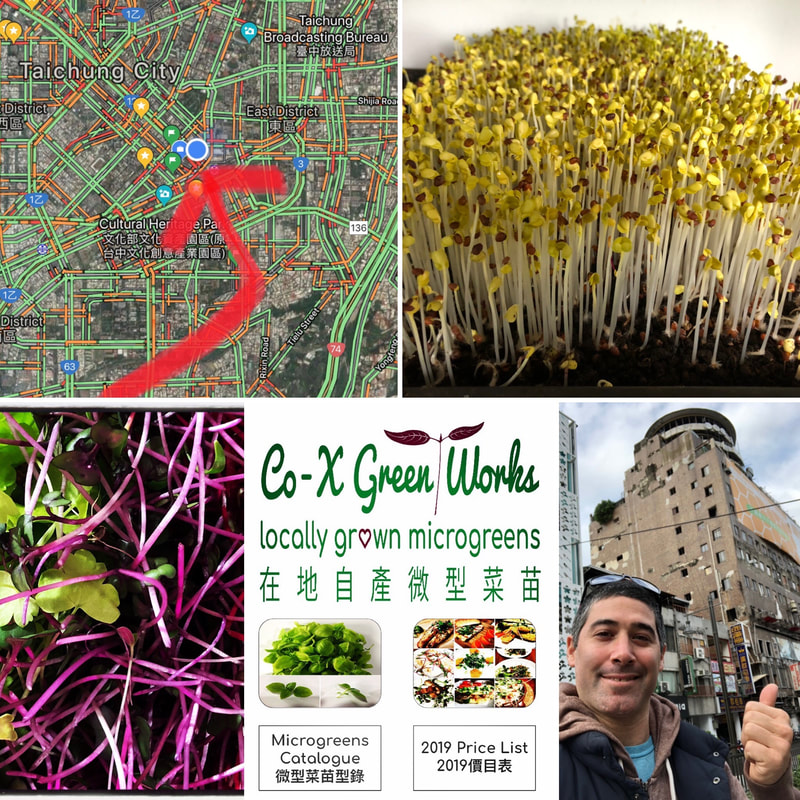 The farm is but one component/microenterprise in a building that houses such potential and creative imagery. The focus of the farm and it's continuous growth, however, is not only toward saving and rejuvenating the building. The farm is also growing for an energetic community of health-conscious and produce-close-to-home consumers that want to know where and how their vegetables are being grown. When customers ask to 'pop in' for a visit or tour, an explanation of how Co-X GW 'greens are grown and how they can be used in their meals throughout the week, we encourage them to come by for a visit, conversation and to stick around to see what other gems can be found in the building.
Maybe, just maybe, a future Co-X GW customer will see what potential 千越 has to offer and will pursue a goal to revive and ignite a beautiful future for this once esteemed and bustling landmark in Taichung's Central District (中區).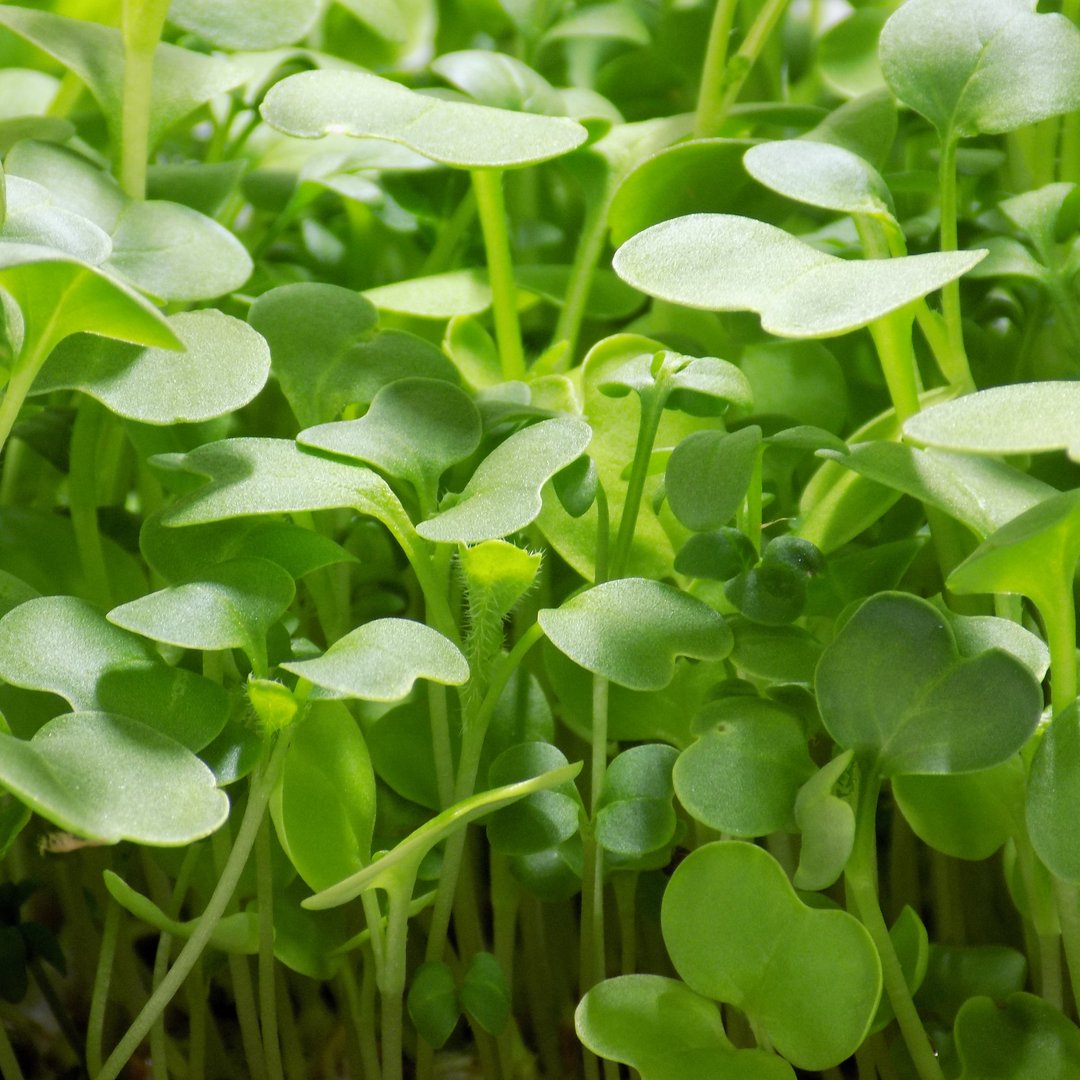 The Harvest
Well, it's that time of week once again and I must tend to the harvesting, packing and delivering of the Co-X GW microgreens and mixed salads. Restaurants and homes are ready to dive into their delicious salads and I mustn't keep them waiting. While it's a rarity to find the time to sit down and put into writing the thoughts that wiz by day in and day out, I should try to fit more time into my hectic schedule to put thoughts to screen more often. Better yet: Come on down to the farm and take a tour to see what we're up to at Co-X GW. Ask questions, enjoy a variety of samples, suggest new veggie options and, when all is said and done, visit the nearby Cafe-X to enjoy some fantastic - and eye-opening - graffiti that adorns the walls at 千越.
Until next time: Keep eatin' your greens for a healthier you and a healthier planet!