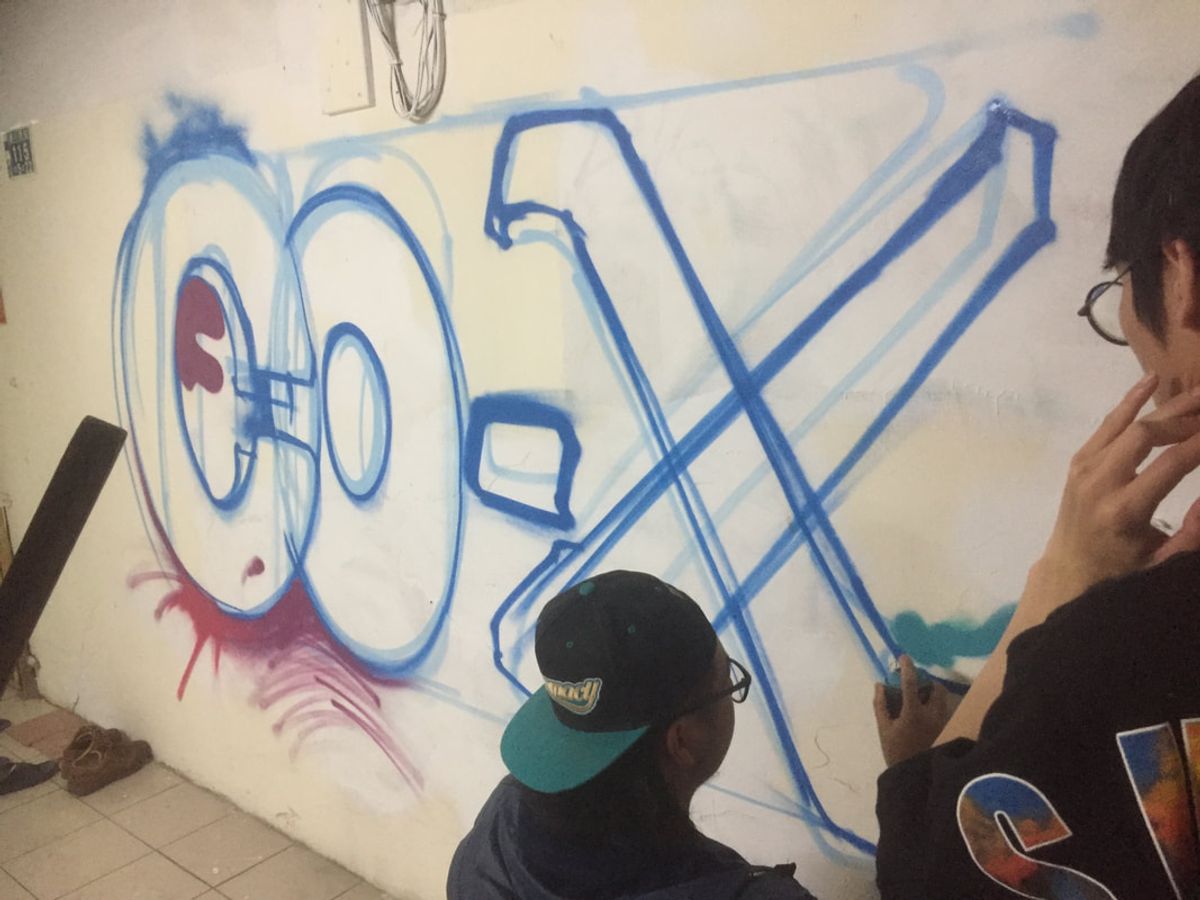 Welcome to the Co-X Green Works Indoor Farm in the heart of Taiwan's second largest city - Taichung! It gives me great pleasure to introduce to you Taichung's newest, grooviest modern indoor farm. Sitting high above the LuChuan West Street Canal on the 5th floor of one of Taichung's most iconic buildings, you can find an assortment of salad greens and microgreens growing under LED Lights and in the care of local indoor farmer, Ashley Atkins. Whether he's using traditional farming with soil and tender loving care or salt-filled baths with Taiwan-made LED lights, Ashley takes great care in how the vegetables are raised, harvested, packaged and shared with the community. Farming is often found in the countryside, but look no further than two blocks from the Taichung Train Station and you'll find Ashley planting, watering and testing the salt solutions used to grow his selection of healthy, tasty and fresh green leaves. So how did this building, once a beacon of Taichung society and well-known throughout the island, become the home of Co-X Green Works? Let's dig a little deeper to find out.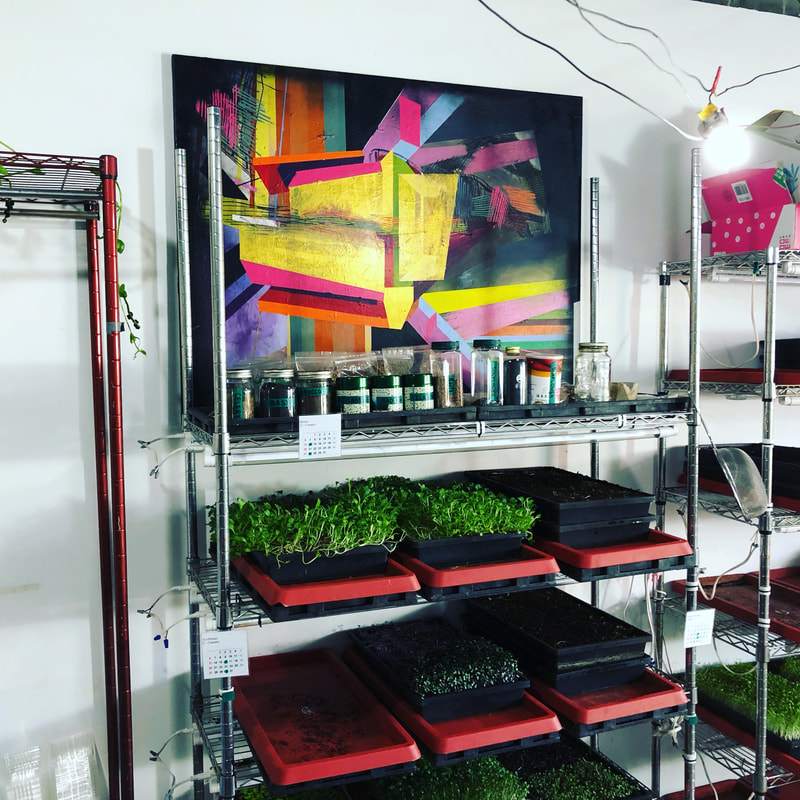 The idea for Co-X Green Works and creating an indoor farm came from the writer of this article. While indoor farming and the knowledge behind Hydroponic farming dates back a long time, the idea to meld Co-X with Hydroponics only came about once the location, building and space were discovered. On January 1, 2018, along with two friends, drop ceilings were pulled down, floors were cleaned, an old window was removed and a fresh coat of paint was applied to all four walls in the studio. Once the interior was complete it was time to move in the work table, shelving units, grow buckets and lights. The last input was the variety of seed needed to get started on the farm!
Across the globe, throughout Asia, in large Taiwan cities, populations are growing - and very quickly! Countryside farms, while relatively close to these city centers, are growing at maximum capacity while not always using the healthiest and most environmentally friendly methods to keep up with the demand that cities require of their farmers and suppliers. Co-X Green Works was created for these very reasons and the timing could not have been planned any better. Projections for a decade or two out see cities growing much larger, farmers and suppliers stressed to the maximum and costs rising exponentially for fresh produce. In addition, if you look on and around urban streets, it's becoming increasingly more difficult to find fresh vegetable and fruit markets that are vitally important to keeping city inhabitants healthy. Co-X Green Works is filling this increasing void with a limited selection of salad greens and microgreens grown indoors.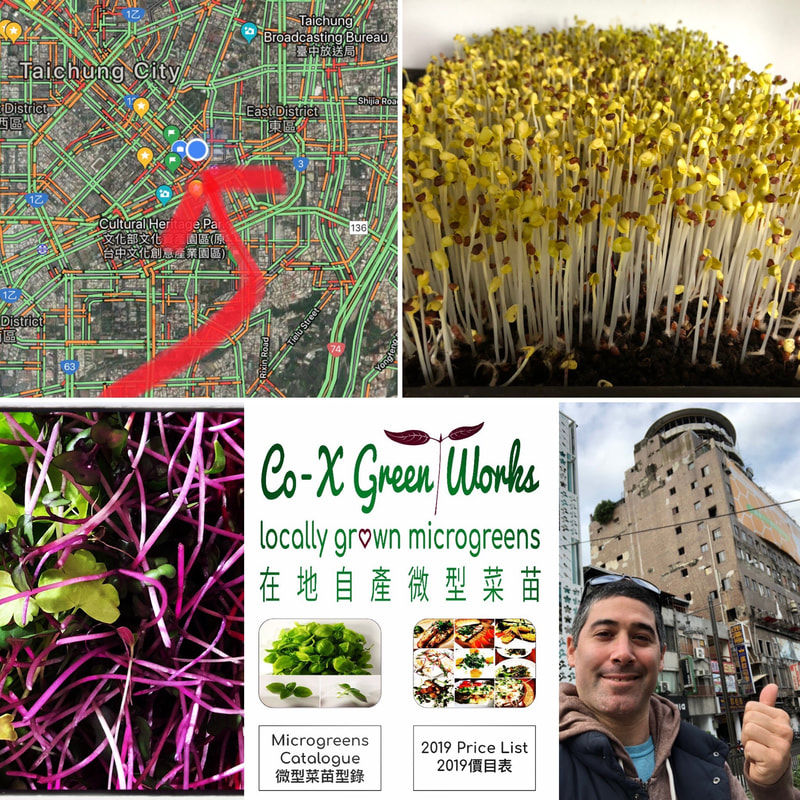 So, where is the farm field located? Well, as mentioned above, the farm isn't situated on a field but in one of Taichung City's oldest buildings. Strategically located two blocks west of the Train Station, Co-X Green Works occupies a 5th floor unit stocked with two grow shelves, a large work table, and a co-working space for idea sharing. The space is quickly becoming an example of what can happen with a little ingenuity and creativity on the part of action-takers who want to make living in the city a healthy and pleasant option. In addition, the Co-X Green Works center is used as an educational space for all walks of life who may be interested in starting their own farms, who want to understand in more detail how their food is grown or use as a relaxing place to spend an hour, two or more.
Plan to drop in for awhile? You may just want to stay for lunch or dinner. Well, not quite yet! While Co-X Green Works is in full production mode, the center is currently used only for growing, harvesting and distributing produce to restaurants, markets and homes. Still, ideas are in the works to make Co-X an all-encompassing experience for the folks who want to venture to the other side of WuQuan Rd. Whether you are on the hunt for fresh locally grown vegetables, in the neighbourhood for a stroll, or want to learn more about different approaches to growing vegetables, look no further than 115 LuChuan West Rd. Be sure to give us a call or send a message beforehand to make sure that we aren't out delivering our fresh, delicious and healthy vegetables to our friendly neighbours!
Enjoy your veggies and have fun along the way!